VIDEOS
In Lebanon, Sunni Provocations Against Hezbollah
MIN READAug 23, 2013 | 22:08 GMT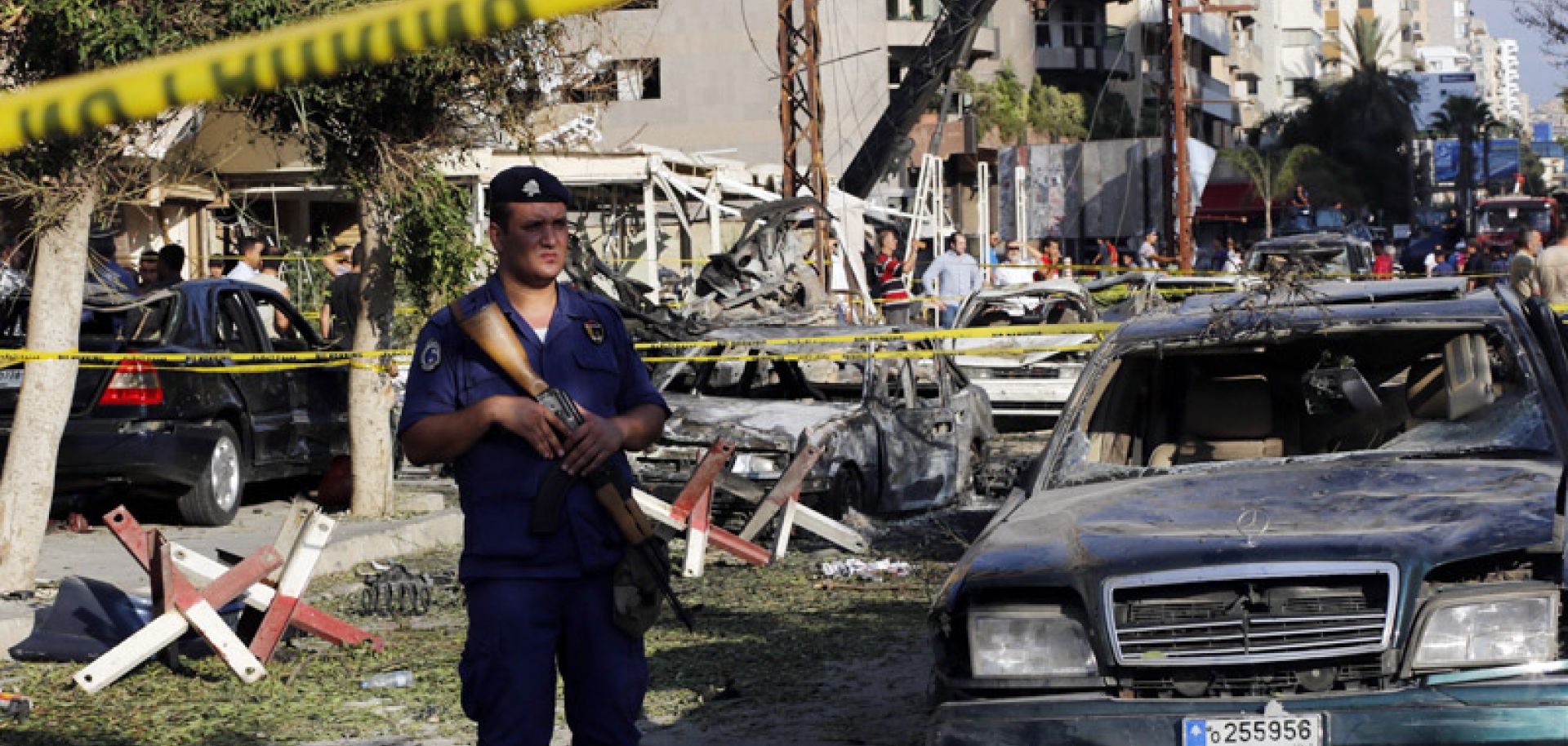 Two explosions rocked two Sunni mosques in Tripoli today right after the end of Friday prayers. The attacks are a sign that Lebanon has entered into a new phase of the broader Syria conflict, one in which Hezbollah and its allies are now responding openly to Sunni provocations. Tit-for-tat strikes will continue in Lebanon and threaten to draw Hezbollah's attention away from Syria to defend its home base, exactly as Syria's Sunni rebels are intending.
The car bombings that targeted the two mosques in Tripoli killed at least 42 people and wounded around 400. The Sunni clerics of both mosques are vocal opponents of the Syrian regime and have openly condemned Hezbollah's aid in Syrian crackdowns. Tripoli has been the scene of regular fighting between Alawites in Jabal Mohsen and Sunnis in Bab al Tabbaneh and is a hotbed for Salafists.
The attacks come two weeks after a car bombing on a highway in Beirut's southern suburbs, where Hezbollah has a strong presence. Another car bombing took place less than five weeks before in the same area.
We have been expecting an escalation of Sunni provocations against Hezbollah this summer. The strategic intent is to redirect Hezbollah's focus away from Syria and back home to Lebanon, thereby giving Sunni rebels in Syria a fighting chance to make a comeback after suffering significant losses over the past several months.
Hezbollah knew these provocations were coming, but it saw the risk in engaging in premature clashes with Sunnis in Lebanon. On the one hand, Hezbollah needs to sustain the Syrian regime's offensive against Sunni rebels to avoid emboldening its Sunni adversaries in Lebanon. On the other hand, Hezbollah has to reassert its militant dominance in Lebanon after being struck with two car bombings in its neighborhood stronghold. Hezbollah managed this dilemma by concentrating its forces in Syria while relying on its operatives and militant allies in Lebanon to carry out kidnappings, shootings and other forms of quieter intimidation.
Now, we have entered the car bombing season in Lebanon, where bigger and more visible acts of retaliation on both sides of the sectarian divide will become more frequent. Hezbollah now faces a major challenge in standing its ground in Lebanon and maintaining a strong enough fighting force in Syria to maintain the regime's offensive.
In addition, Hezbollah is facing pressure from its constituency to reassert its credentials as a resistance movement against Israel. The group's leadership does not want to be seen as a pawn of Iran and Syria, nor a destructive force within Lebanese society. Hezbollah claimed a recent ambush against Israel Defense Forces and could engage in more provocations along the border to distract from its battles in Syria and Lebanon, but it cannot afford to stretch itself too thin there, either.
Hezbollah's Sunni rivals in Lebanon know this, and thus have an intent in escalating tensions along the Israeli-Lebanese border in the hopes that Israel will hold Hezbollah responsible and retaliate against them. Notably, Israel responded to Thursday's volley of rockets from southern Lebanon with an air strike Friday on a tunnel running through the hills overlooking Beirut's airport. That tunnel is operated by the Popular Front for Liberation of Palestine-General Command, a group that has closely worked with Syrian intelligence and Hezbollah by extension in the past. At the same time, Sunni militants opposed to Hezbollah are trying to use Palestinian refugee camps in Lebanon as a base of operations for attacks against Hezbollah. The Abdullah Azzam Brigades — a jihadist group that actually claimed the rocket attack — fits this profile.
Overlapping, albeit conflicting, militant interests will likely drive more provocations along the Israeli-Lebanese border. At the same time, Hezbollah will have to focus more attention on targeting Sunni militant cells in Lebanon. We will need to watch closely in these next few weeks and months whether this has a substantial impact on the Syrian regime's capabilities and whether this array of militant distractions in Lebanon will give the Sunni rebels an advantage on the battlefield.
Connected Content