ASSESSMENTS
China's Ambitions in Xinjiang and Central Asia: Part 1
MIN READSep 30, 2013 | 10:31 GMT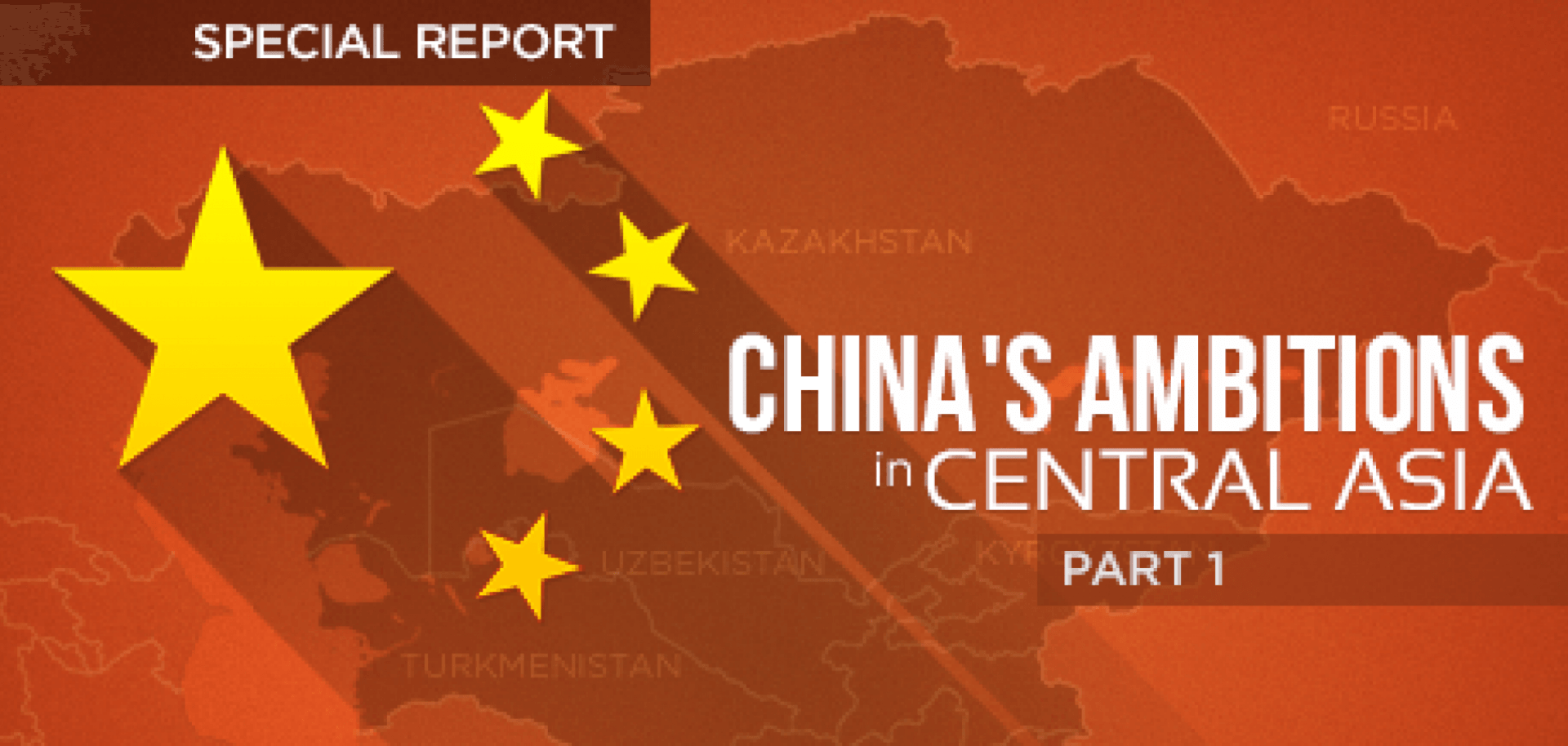 Stratfor
Editor's Note: This is a three-part series on China's evolving strategic interests in Central Asia and in its own far northwest, the Xinjiang Uighur Autonomous Region. Part 1 looks at Xinjiang's history as a "buffer region" protecting China's core and linking it to Eurasia. This installment also examines recent efforts by Beijing to adapt the region's legacies to new uses. Read more in Part 2 and Part 3.
In mid-September Chinese President Xi Jinping rounded out a 10-day tour of Central Asia that included state visits to Turkmenistan, Kazakhstan, Uzbekistan and Kyrgyzstan, as well the G-20 summit in St. Petersburg and the Shanghai Cooperation Organization summit in Bishkek. At each stop, the new president made hearty pledges of financial support and calls for further diplomatic, security and energy cooperation. In Turkmenistan, Xi inaugurated a natural gas field. In Kazakhstan, he agreed to invest $30 billion in energy and transportation projects. In Uzbekistan and Kyrgyzstan, he made similar promises to increase investment and cooperation in the coming years.
Xi's tour can be examined as part of China's struggle to reduce its exposure to security risks and supply disruptions off its coast by developing new overland transport routes for goods, energy and other natural resources. China's eastern seaboard, and the maritime realm beyond it, have dominated Chinese political, economic and military planning in recent decades, and in many ways it will continue to do so for the foreseeable future. The coast will remain central to China's role in the global economy, facilitating the flow of Chinese goods to overseas markets, as well as the imports of seaborne energy and raw materials relied upon heavily by coastal provinces to feed their oversized manufacturing bases.
In recent years, however, anxiety within the Chinese Communist Party over the security implications of the country's dependence on coastal trade has taken many forms. China's aggressive efforts to modernize its navy and expand energy, resource and infrastructure projects overseas are perhaps its most visible attempts to cope with the geopolitical implications of its economic and energy needs. Xi's tour, along with several other recent events, has highlighted China's enduring need to focus on westward development as well.
Establishing a 'New Border'
Geographically, China consists of three shelves that radiate up and outward from east to west like the steps of an amphitheater. The first and second shelves essentially hover over the Han core, where more than 90 percent of China's roughly 1.3 billion people live. Surrounded by plateaus, mountains, deserts and steppe, the core historically has been vulnerable to attack — whether from Mongolian horsemen riding down through the Central Eurasian plains, the Manchu descending from Eastern Siberia or the Japanese (in 1592 and again during World War II) through the Korean Peninsula and Manchuria.
To defend the Han from overland invasion, successive Chinese dynasties have sought to push the core's boundaries north and west by capturing and pacifying as much of the frontier highlands as possible. As a result, the history of Han China's engagement with the sparsely populated, inhospitable lands on its periphery is defined by cycles of incorporation — with these regions transformed into protective buffers — and dispersal, whenever the core has fragmented and lost control of the frontier.
In many ways, Xinjiang represents the outer edge in this pattern. It is far more remote than other traditional buffer regions such as Inner Mongolia and Manchuria. Urumqi, the provincial capital, is more than 3,100 kilometers (1,920 miles) from Beijing, while Kashgar, the westernmost Chinese city and historically a major Silk Road trading hub, is nearly 4,400 kilometers from the coast. Xinjiang has also played a less-prominent role in Chinese history than the other buffer regions. Over the past 2,500 years, the region has broken away from China repeatedly, and it was not fully incorporated into the Chinese empire until the 18th century, taking the name Xinjiang, or "New Border," a century later. China's conquest of Xinjiang under the Qing Dynasty (1644-1911) was in part a response to the rise of Russia as a Eurasian power during the same period. Prior to then, there had been little threat of invasion from Central Asia and hence little reason to formally annex all of Xinjiang.
Moreover, Xinjiang is largely a desert wasteland cleaved in two by the Tianshan Mountains. The majority of its 22 million inhabitants live clustered in one of three sub-regional cores: the Uighur-dominated Tarim Basin to the south (centered in Kashgar), the majority Han Chinese Junggar Basin to the north (home to Urumqi), and the smaller Ili River Valley wedged in between. Today, Xinjiang accounts for 17 percent of China's total landmass — an area roughly half the size of India — but less than 2 percent of its population. The physical environment of the region is simply too harsh to support large populations (by Chinese standards), even with modern agricultural and industrial technologies.
But Xinjiang is not entirely cursed by geography. It is the only major overland route from China to Central Asia and thus was historically part of the Silk Road trade routes. Long before Xinjiang became a military buffer for China, narrow passageways such as Alashankou, the Dzungarian Gate and the Karakoram Pass along the region's borders with modern-day Kazakhstan and Pakistan shaped its economic, cultural and political identity as a commercial gateway to high-end goods such as silk, jade, spices and precious gems. The importance of trade along the Silk Road ebbed and flowed with changes in the Chinese economy and those of its major trading partners, and it has never accounted for more than a fraction of the Chinese Empire's total economic output. Nonetheless, Xinjiang has long been important as a conduit for facilitating the exchange of ideas and technologies between China and the rest of Eurasia.
Modern Day: Building Trans-Eurasian Ties
In a speech in Astana, the Kazakh capital, on Sept. 7, Xi framed his tour as an effort to create a "Silk Road Economic Belt" through Xinjiang and the Central Asian states it borders, as well as Uzbekistan and Turkmenistan. Talk of re-establishing the historical trade route was promptly echoed by national and regional leaders in Xinjiang, who emphasized the region's unique role as a land bridge to South and Central Asia.
Indeed, Xinjiang's history as a trade route and protective buffer is still shaping Beijing's interests and policies in the region today, especially as the Party looks to expand overland energy and trade ties with Central Asia. For Beijing, the challenges and opportunities presented by Xinjiang are manifold: As an energy transport corridor and resource base, the province will be critical for efforts to industrialize the interior and reduce China's exposure to possible supply disruptions in the South and East China seas. At the same time, Xinjiang's remoteness and terrain, as well as persistent security concerns about the region's restive Uighur Muslim population, will constrain Beijing's most ambitious visions of trans-Eurasian road, rail and pipeline systems.
Nonetheless, there are already an unprecedented number of cross-border projects under various stages of development. Many, such as a proposed agricultural free trade zone along the Xinjiang-Tajikistan border, are small and expected to have a limited long-term impact. Others, such as a long-discussed overland transport corridor linking Kashgar (which was made into a special economic zone in 2010 and has since emerged as a focal point for state-led investment in Xinjiang) with the Chinese-operated Port of Gwadar in Pakistan, could be much more geopolitically significantly, albeit while facing enormous logistical, political and security constraints in the near term.
One of the most promising developments in overland transport is the China-Europe railway. On July 17, Beijing inaugurated a direct rail line from Zhengzhou, the capital of Henan province and the largest inland manufacturing base for Taiwanese electronics firm Foxconn, to Hamburg, Germany. Six round trips are expected to be made on the Zhengzhou-Hamburg line in 2013, each one ferrying approximately $1.5 million-worth of mostly electronic goods to Europe. It takes around 21 days to reach the Continent by rail, while seaborne transport between China and Europe takes around five weeks, with much longer average delay times. Transport from inland China to Europe by rail costs approximately 25 percent more than by sea, but for companies such as HP (which has been shipping Chinese-assembled laptops to Europe from its Chongqing factories since 2011) and DHL (which now runs weekly express trains to Europe from Chengdu), the benefits of speed outweigh the extra costs.
Trade Booming, but Challenges Remain
The Chinese and Kazakh governments expect the volume of overland trade through the region to Europe to grow from 2,500 forty-foot equivalent units (a measurement of cargo capacity) this year to 7.5 million by the end of the decade, according to The New York Times. If value grows at the same rate, then overland trade between China and Europe could reach $4.5 billion — still only a small fraction of overall China-Europe trade, but one that will have tangible benefits in the inland cities most directly affected.
Still, efforts to develop overland transport routes to and through Central Asia will be constrained by distance, terrain and political and security risks — not only in the Eurasian states that new lines would pass through but within Xinjiang as well. Projects such as the Kashgar-Gwadar corridor will be easy targets for local separatists or jihadist elements with ties to the East Turkestan Islamic Movement in Xinjiang and Pakistan's Waziristan region. Meanwhile, the China-Europe line will be vulnerable to shifts in Russian policy or in Moscow's relations with other countries along the route, especially Kazakhstan, Belarus and Poland. Similar political, geographic and security challenges will complicate another long-discussed project, the Trans-Asia Railway (known colloquially as the Iron Silk Road) linking China to Europe via the Middle East.
Even if the large-scale development of trans-Eurasian transport links is ultimately constrained, Beijing's support for such projects is telling nonetheless and indicative of China's broader strategic concerns. As a transport corridor, Central Asia is unlikely to ever account for more than 5-7 percent of Chinese-European trade by volume, but it will support the Party's broader goal of curtailing, to whatever extent possible, China's overreliance on sea-lanes in the South and East China Seas. Similar to planned oil and natural gas pipelines that will run from the coast of Myanmar to Yunnan and like the prospective Gwadar-Kashgar transport corridor, overland railways could serve as possible lifelines for arms, munitions and energy in the event of a security crisis on the coast. However remote this possibility, China's leaders are not insensitive to it, especially given the modern legacy of war and invasion from the east.
Next: Part 2 of this series examines more closely Beijing's expansion of energy ties to Central Asia, as well as its efforts to transform Xinjiang into a resource supply hub.
Connected Content