ASSESSMENTS
Congolese President Finally Picks a Successor
MIN READAug 10, 2018 | 09:00 GMT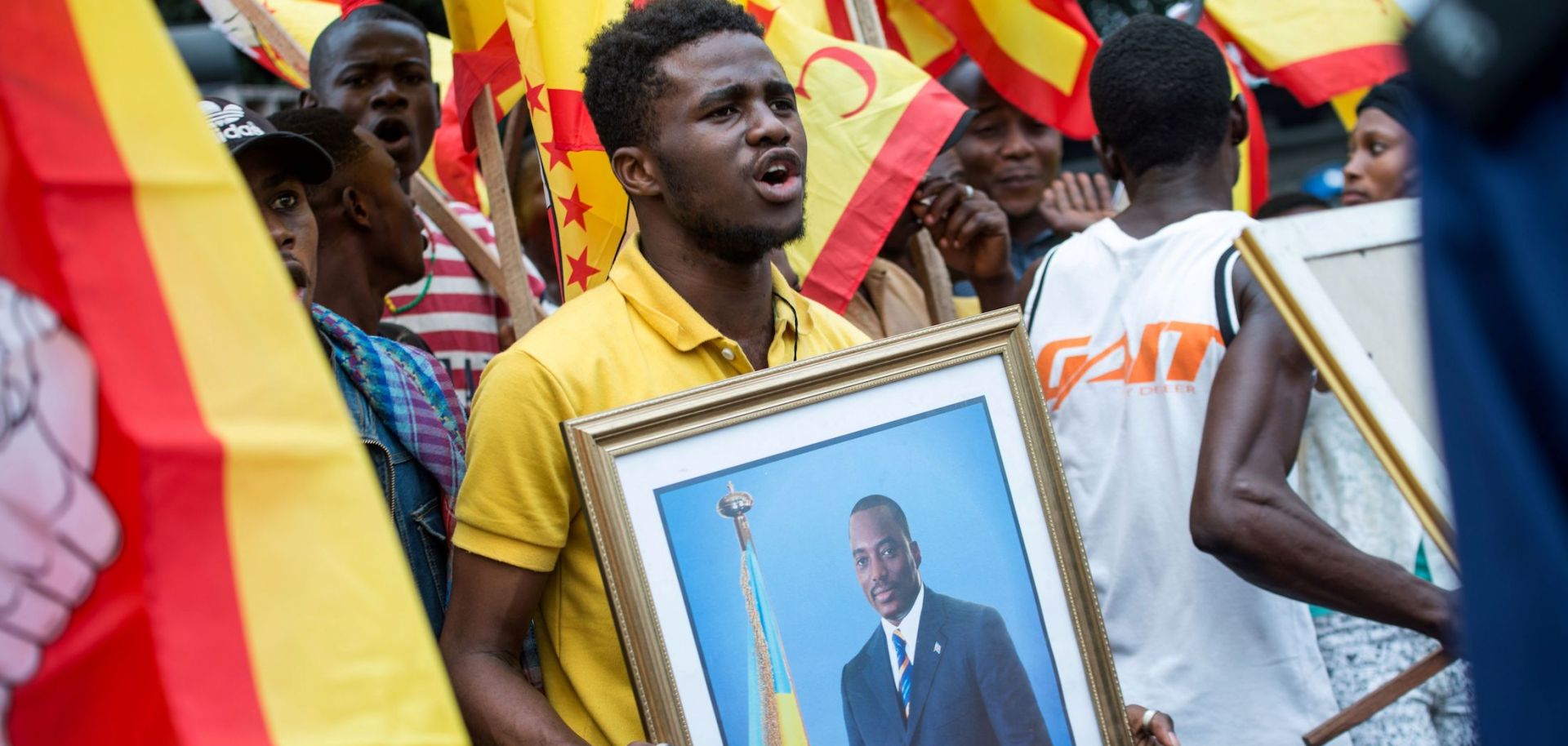 (JUNIOR D. KANNAH/AFP/Getty Images)
Highlights
President Joseph Kabila's designation of a successor will somewhat placate the United States and other international powers that have threatened key Congolese leaders with sanctions.
Doubts about the government's ability to pull off a credible election by Dec. 23 remain, especially since flawed polling would likely benefit the ruling party.
The soon-to-be former president will attempt to control his successor and to rule from behind the scenes, creating longer-term risks for the Democratic Republic of the Congo.
After overstaying his term in office by about 18 months, Congolese President Joseph Kabila is finally taking the big step — the step down. On Aug. 8, the deadline for registering for the Democratic Republic of the Congo's presidential election, tentatively set for Dec. 23, Kabila's political alliance nominated a successor candidate to run for president. Kabila's move to step aside will likely placate the United States, France and other international powers; they feared he would seek a third term and had threatened to slap key individuals with sanctions if he did. But Kabila is just stepping back, not stepping away. He will still be prominent in the background protecting his power and his family's fortunes as the Congo adapts to a new leader.
The Big Picture
Stratfor has consistently forecast since 2016 that Congolese President Joseph Kabila would delay elections until he found an acceptable successor to oversee his fractious political alliance. The Democratic Republic of the Congo is a large but weak state in Central Africa, and it is likely headed toward a violent election, which could create a broader regional headache.
Picking a Successor
Since the end of his second term in 2016, Kabila has been tight-lipped about his exit strategy, and many believed that the 47-year-old leader would engineer a way to stay in office, given that the country's supreme court had approved his extended term. In fact, Kabila has been desperately trying to find a successor who would be acceptable to his unruly political coalition, the Common Front for Congo. Indeed, this candidate would need to be strong enough to govern the unstable country but weak enough not to threaten Kabila and his riches.
In stepped Emmanuel Ramazani Shadary, a former vice president of the interior (in charge of security portfolios) and a known Kabila loyalist. Shadary had overseen bloody crackdowns on anti-Kabila protests in 2017, earning him a spot on the European Union sanctions list and further endearing himself to Kabila. Moreover, in recent months his political party reorganized, leaving open the door for a powerful party president, such as Kabila, to slide in and be the true power behind the throne. Indeed, it is likely that this position will let Kabila be the dispenser of patronage, keeping the key players loyal to him and not his successor.
Potholes in the Road Ahead
For the Congo, the path ahead will be perilous because of the uncertainty and potential for violence surrounding the elections, and because of politics within the ruling party and the resolve of the opposition. First, it is unclear whether all the key players in the presidential coalition agree with the decision to nominate Shadary. The coalition most likely will circle its wagons, but fractures over Shadary's candidacy could weaken it at a critical time.
And the relationship between Kabila and his successor could complicate matters. Shadary has proved to be a loyal Kabila foot soldier for two decades, but his allegiance isn't guaranteed. The president is probably quite aware of the handover of power in Angola, one of Congo's southern neighbors. In 2017, President Jose Eduardo dos Santos transferred power to the ruling party's chosen successor. That new leader, Joao Lourenco, has since systematically dismantled the economic gains of the dos Santos family and its allies. Consequently, Kabila is no doubt working to empower his successor enough without fully handing over the keys to the kingdom.
Second, the Congo will need to make progress on the preparations for the December elections. Serious doubts remain about the government's ability to pull off a free, fair and credible election. But from the point of view of the ruling party, a credible election may not even be in its interest, because flawed polling would likely benefit it and not the popular opposition figures. However, a severely flawed election could lead to regional security flare-ups, posing a longer-term risk.
Kabila is no doubt working to empower his successor enough without fully handing over the keys to the kingdom.
Third, the country's opposition is ready to fight and has a number of strong candidates lined up. Shadary is relatively unknown and will require significant help from the coalition to raise awareness of his name and platform. His strength stands in contrast to that of several opposition figures, including Jean-Pierre Bemba, who is fighting to get his name on the list of contenders. A former rebel leader and vice president who battled the Kabila clan, Bemba was recently plucked out of an International Criminal Court prison after his conviction for war crimes committed by his troops in neighboring Central African Republic was overturned. Bemba's sudden return to Congo has jolted the political scene. He remains popular in the north and in Kinshasa, and there is no doubt he poses a huge headache to the Kabila political system.
And he is not alone in challenging the ruling party. Felix Tshisekedi has also thrown his hat in the ring. He is the son of deceased opposition stalwart Etienne Tshisekedi, but he has struggled to consolidate support behind his candidacy and doesn't have the political stature that his father had. In addition, Moise Katumbi, a popular former governor of Katanga province, has tried to enter the race. However, he has drawn the ire of the Kabila government more than the others, having been tripped up by multiple court cases and an international arrest warrant. Katumbi, who has been abroad for years, has been barred from returning, and it is unclear whether he will be a candidate.
Since becoming independent from Belgium in 1960, the Congo has never had a peaceful transfer of power. Kabila has finally agreed to step aside, and the way may be open for some small changes. One critical factor will be the unity of the opposition and whether it can challenge the president's political system as it seeks to survive.
Connected Content