INTERACTIVES
Flight Times and Hub Airports
MIN READMar 1, 2017 | 22:26 GMT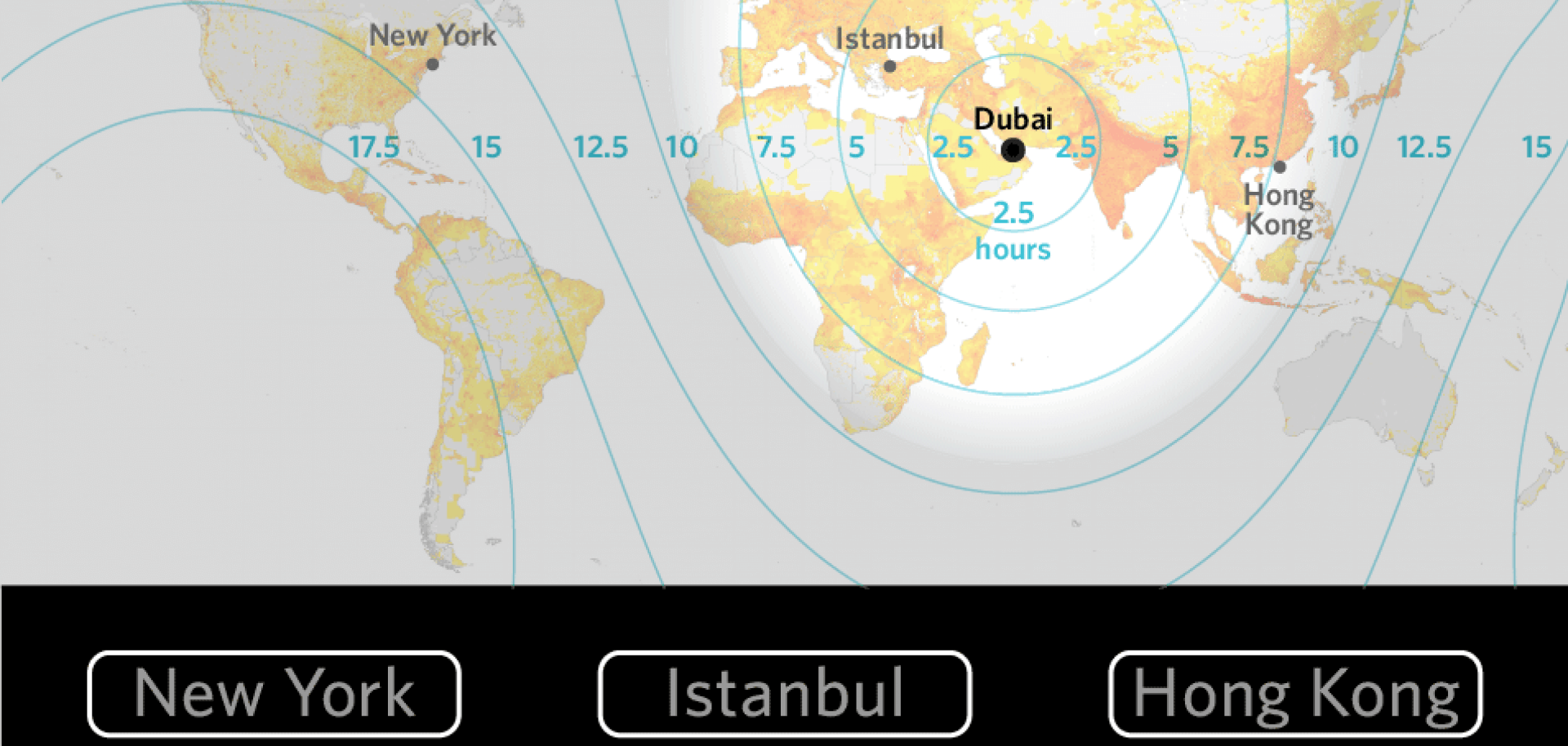 Flight Times and Hub Airports
The Dubai airport — and others in Abu Dhabi and Doha — are an ideal eight-hour flight from airports in Asia, Europe and Africa. Eight-hour flights are the target length for long-haul international carriers such as Emirates, Etihad Airways and Qatar Airways: Any longer and fuel consumption becomes less efficient, any shorter and more budget-minded, local airlines and hubs compete for passengers.
New York
Most of North America is within a five-hour flight from New York City, and all of Europe is within 10 hours. But most of the Asia-Pacific, including Japan and China, is more than twelve and a half hours away from the city. This makes New York City a good gateway to Europe for North American flyers but a poor gateway to Asia.
Hong Kong
Almost all of Asia's major population centers are within an eight-hour flight from Hong Kong. But the airport is far removed from city centers in Europe, Africa and the Americas. Thus, Hong Kong airport is a hub for intra-Asia flights but not for flights from other regions.
Istanbul
Istanbul is situated directly between European and western Asian population centers, making it an ideal location from which to base flights in the region. But its distance from east Asian markets makes it a sub-optimal candidate for connecting passengers between Europe and Asia.
London
London is an ideal hub for Trans-Atlantic flights, given that most of western Europe can be accessed in just 2.5 hours and almost the entire eastern half of the United States is reachable within an 8 to 10 hour flight.
Dubai
Dubai is an ideal location to serve as the connection point between the world's most populous regions: Eastern Asia and Europe. All of India is within five hours of Dubai while all of China, Southeast Asia, Europe, Africa and most of Japan are within 10 hours. This has enabled Dubai to take advantage of its location to become the third largest hub for passengers in the world and the largest one almost exclusively focused on international flights.
Connected Content