GRAPHICS
Gaming Out 'Fort Trump' and Other U.S. Military Base Options in Poland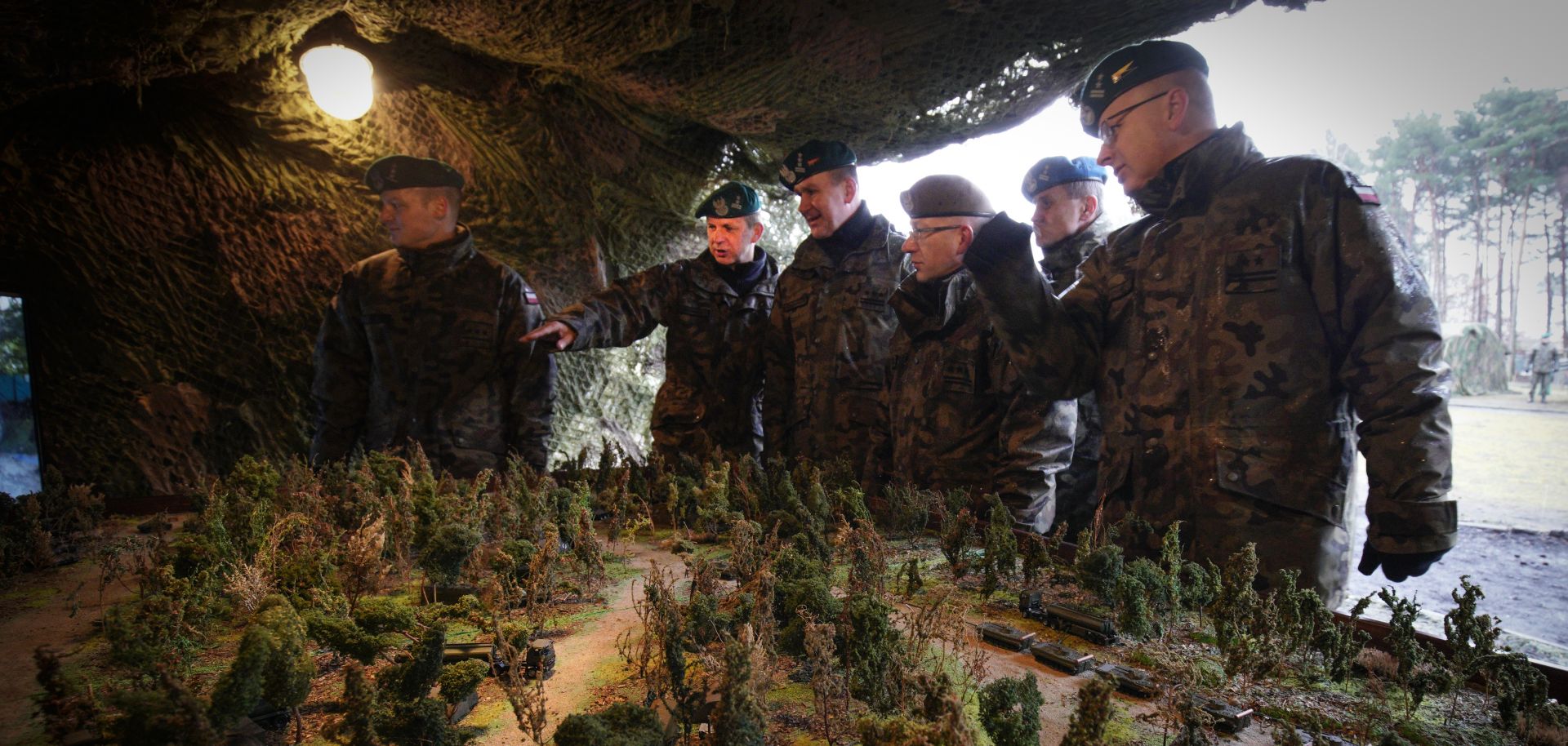 (Jaap Arriens/NurPhoto via Getty Images)
Poland, on the front lines of the Russia-West buildups in Central and Eastern Europe, has long sought an increased security commitment from the United States. Despite its accession to NATO in 1999, the country still lacks the kind of large, fixed NATO presence as found in Western European states such as Germany and Italy. Thus, Poland still feels vulnerable to Russian influence.
But the election of Donald Trump as U.S. president in 2016 has since presented Warsaw with a fresh opportunity to persuade Washington to station a permanent U.S. military presence in the country. During a meeting with Trump in September, Polish President Andrzej Duda offered the United States $2 billion in financing for a division-sized U.S. base by the Vistula River on Poland's eastern border, even suggesting to name it "Fort Trump."
In the months since, negotiations over a permanent U.S. presence in Poland have quickly progressed, with U.S. officials indicating a different format for military cooperation between the two countries. Instead of constructing a single large military base, Washington has proposed to disperse U.S. troops across various existing bases in the country, such as in Redzikowo, Poznan and Orzysz
Under this plan, Washington also offered to construct a NATO weapons depot in Powidz, along with the deployment of an additional 1,000-1,500 U.S. military personnel to the country. And while this is a far more modest proposal than the one originally presented by Poland (which suggested a division size of roughly 15,000 U.S. troops), it would nonetheless fulfill Warsaw's long-held desire for a fixed U.S. presence.
That said, regardless of specifics of Warsaw and Washington's potential new defense agreement, any increase in the U.S. military position in Poland — no matter how small — is bound to prompt Russia to build up its own military position. One potential site for a reciprocal buildup would be Belarus. Russia could also choose to bolster its presence in other nearby areas — including Kaliningrad, Crimea and in eastern Ukraine — depending on the nature of the U.S. deployment in Poland.
Duda's visit to Washington on June 12 could yield significant progress toward the realization of such a military deal, which Poland is hoping to finalize before Trump visits Warsaw for a World War II commemoration on Sept. 1. But the United States and Poland will do so at the risk of escalating the arms competition between Moscow and the West, as both Russia and Belarus have made it clear that a beefed-up U.S. military presence in Poland — whether concentrated at an entirely new base or spread out across the country's existing bases — will leave them little choice but to respond with military buildups of their own.
Connected Content
---