Russia's Invasion of Ukraine Will Cause Western Sanctions, but Not Intervention
MIN READFeb 24, 2022 | 12:31 GMT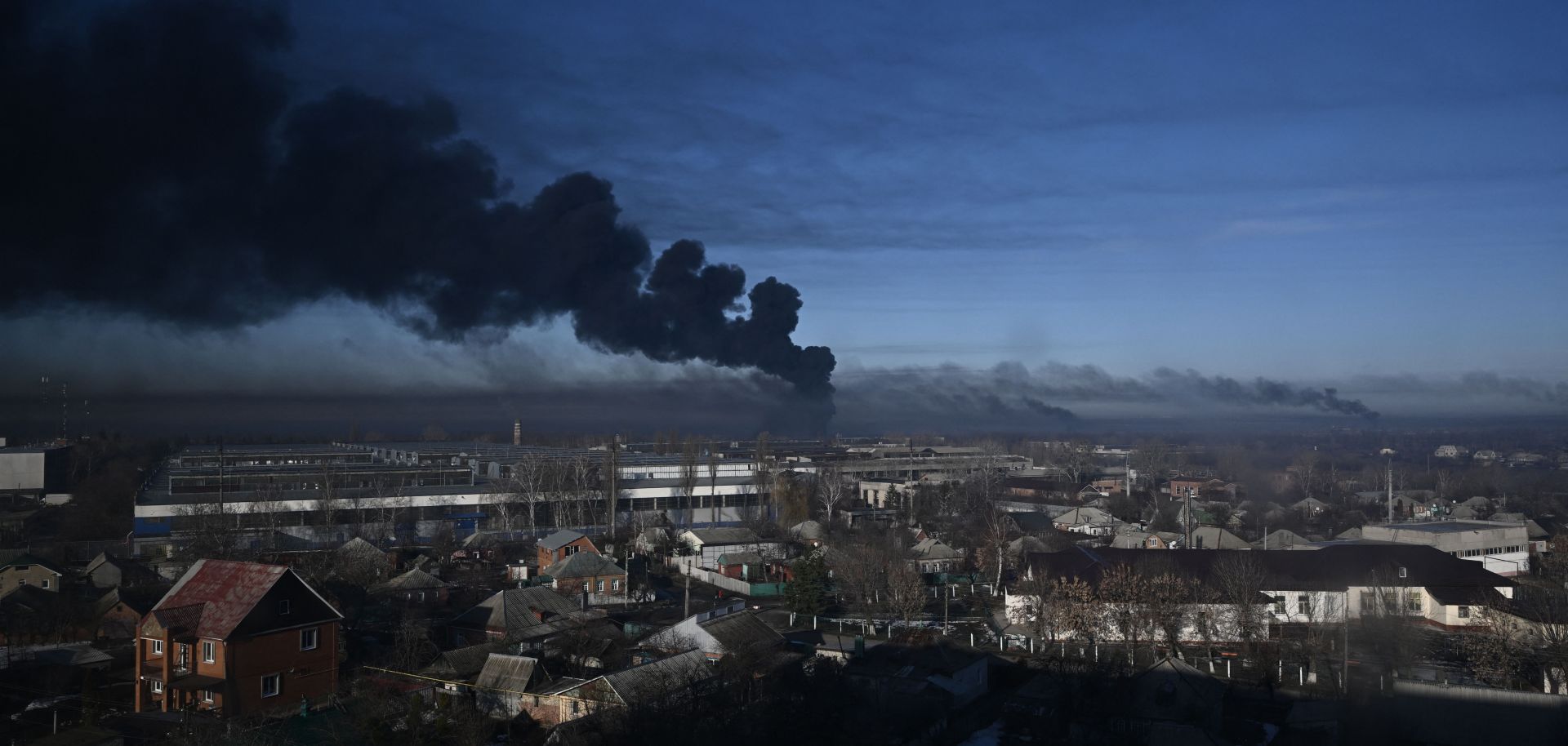 (Photo by ARIS MESSINIS/AFP via Getty Images)
Russia's decision to launch a large military operation in Ukraine early Feb. 24, hitting targets across the country, including the capital Kyiv, will see Western countries impose significant sanctions on Russia, but their direct military involvement is unlikely. In a TV speech announcing the attack, Russian President Vladimir Putin said the plan is not to "occupy" Ukraine but to "demilitarize" the country, which he described as a threat to Russia. While Putin described the operation as necessary to defend the separatist republics in Donbas, one of Russia's main goals seems to be to oust the Ukrainian government, which he described as a "regime." Russia's initial actions involved missile, artillery and air attacks in coordinated moves launched from areas including Crimea in the south, Belarus in the north, and the Ukrainian separatist republics in the east, which targeted Ukrainian military infrastructure and border positions. Three hours after the start of the attacks, Moscow claimed to have "neutralized" Ukraine's airbases and air defenses and videos widely shared online show Russian forces moving throughout the country.
While most of the airstrikes appear to be concentrated in the east of Ukraine, reports also indicate that attacks also took place in western Ukrainian cities including Lutsk and Ivano-Frankivsk.
There are also reports of Russian troops entering Ukraine from multiple positions, including Crimea and Belarus. Ukrainian officials have denied reports of an amphibious landing in Odessa.
Explosions were heard in the capital, Kyiv, and large cities such as Odessa, Mariupol, Kharkiv, Dnipro, Ivanko Frankivsk and Kramatorsk.
Russia's apparent goal of overthrowing the Ukrainian government suggests that the military actions could last for several days and include a ground incursion to take Kyiv, which could significantly increase the number of casualties. While the Russian government said it would not target population centers, if Moscow's goal is to depose the Ukrainian government to replace it with a pro-Russian administration, an attack on Kyiv is possible. As Russian tanks have entered Ukraine from points north, east, and south of Kyiv, an attempt to take the capital could happen in the coming hours. This would severely increase the casualties of the conflict, especially in the case of urban warfare.
The Commander-in-Chief of the Armed Forces of Ukraine, Maj. Gen. Valeriy Zaluzhny, said that Ukrainian President Volodymyr Zelensky, who has declared martial law, "gave orders to inflict maximum losses against the aggressor." Ukrainian Defense Minister Oleksii Reznikov said that anyone who is able to hold a weapon should join the territorial defense forces. The police said they would distribute weapons to veterans.
In his televised speech, Putin warned against anyone "who may be tempted to intervene" (a threat likely directed at deterring further NATO support for the Ukrainian government) and encouraged Ukrainian soldiers to "immediately put down arms and go home."
The West will impose heavy sanctions on Russia, but direct military involvement to expel Russia from Ukraine is improbable. The United States, the United Kingdom and the European Union condemned Russia's attacks and promised to impose additional sanctions against Moscow. In recent weeks, Washington, London and Brussels have worked on sanctions targeting Russia's banking and energy sectors and banning exports of technology and other goods. The West has so far refrained from implementing these sanctions, opting instead for a gradual approach. Russia's recent actions mean, however, that some punitive measures that seemed improbable before Feb. 24 will now be on the table. The sanctions could also include Belarus because some of the attacks took place from its territory, where Russian troops have also been staged since joint military exercises earlier this month. While Western governments are also likely to accelerate their transfer of weapons to Ukraine, they will probably not get militarily involved in the conflict to avoid a direct military confrontation with Russia that could escalate to other parts of Europe.
U.S. President Joe Biden said the members of the G-7 will meet soon to coordinate "severe" sanctions against Russia.
European Commission President Ursula von der Leyen, said Brussels will later today present "a package of massive and targeted sanctions" against Russia. According to von der Leyen, "we will target the strategic sectors of the Russian economy by blocking the access to technologies and markets that are key for Russia. We will weaken Russia's economic base and its capacity to modernize. In addition, we will freeze Russian assets in the European Union and stop the access of Russian banks to European financial markets."
EU diplomacy chief Josep Borrell said the bloc will adopt "the harshest package of sanctions we have ever implemented" against Russia. Borrell also condemned the "involvement of Belarus in this aggression against Ukraine" and called on Minsk "to abide by its international obligations."
Estonia, Latvia and Lithuania have called for sanctions on Russia including disengaging Russia from the SWIFT international system for bank transactions, though this is unlikely in the short term.
The British government promised to impose "unprecedented" sanctions to punish Russia's "appalling decision" to invade Ukraine.
Germany had so far opposed sending weapons to Ukraine. On Feb. 24, however, the head of the Bundestag's foreign affairs committee, Norbert Rottgen, said that he now supports such a move.
NATO chief Jens Stoltenberg on Feb. 24 said that "We don't have NATO troops in Ukraine, and we don't have any plans to send NATO troops into Ukraine."
On Feb. 24 the ruble fell to an all-time low of 89.60 against the dollar, forcing the Bank of Russia to intervene to support the currency. Separately, the Moscow Exchange temporarily suspended trading for two hours before reopening after stocks fell 50%. In the meantime, oil prices soared past $105 for the first time since 2014.
While an increase in the arrival of refugees into the European Union is likely and retaliatory Russian measures like cyberattacks are probable, the expansion of direct military conflict beyond Ukraine is improbable. In the coming days, countries including Poland, Romania, Hungary, Slovakia and Moldova will probably see an increase in the arrival of Ukrainians escaping their country and multiple Western states and companies could see disruptive cyberattacks, judging from Russia's past actions. While some countries in the region have declared a state of emergency, kinetic conflict is unlikely to extend beyond Ukraine because Russia is not interested in a regional war and its primary focus is to supplant Ukraine's sovereignty and install a pro-Russian regime. More importantly, most of Russia's neighbors in Europe are NATO members and therefore covered by the alliance's Article V clause of collective defense.
On Feb. 24 the Polish government announced the opening of eight reception points for Ukrainian refugees on its border.
On Feb. 24 Lithuanian President Gitanas Naused issued a decree declaring a state of emergency in the country. While the government said this would not substantially change the daily life of Lithuanians, it will allow Vilnius to mobilize funds and infrastructure faster if need be.
On Feb. 24 the Moldovan government declared a state of emergency amid reports of dozens of cars trying to enter the country from Ukraine.
The announcement on February 23 that Ukrainian computer networks were hit with a data-wiping attack, the second this year, indicates a significant risk that the malware could expand to networks beyond the country, similar to what happened in the 2017 NotPetya attack. The data wiper has already been found in Latvia and Lithuania on the computers of contractors for the Ukrainian government.
Connected Content