ASSESSMENTS
Saudi Arabia's Succession Labyrinth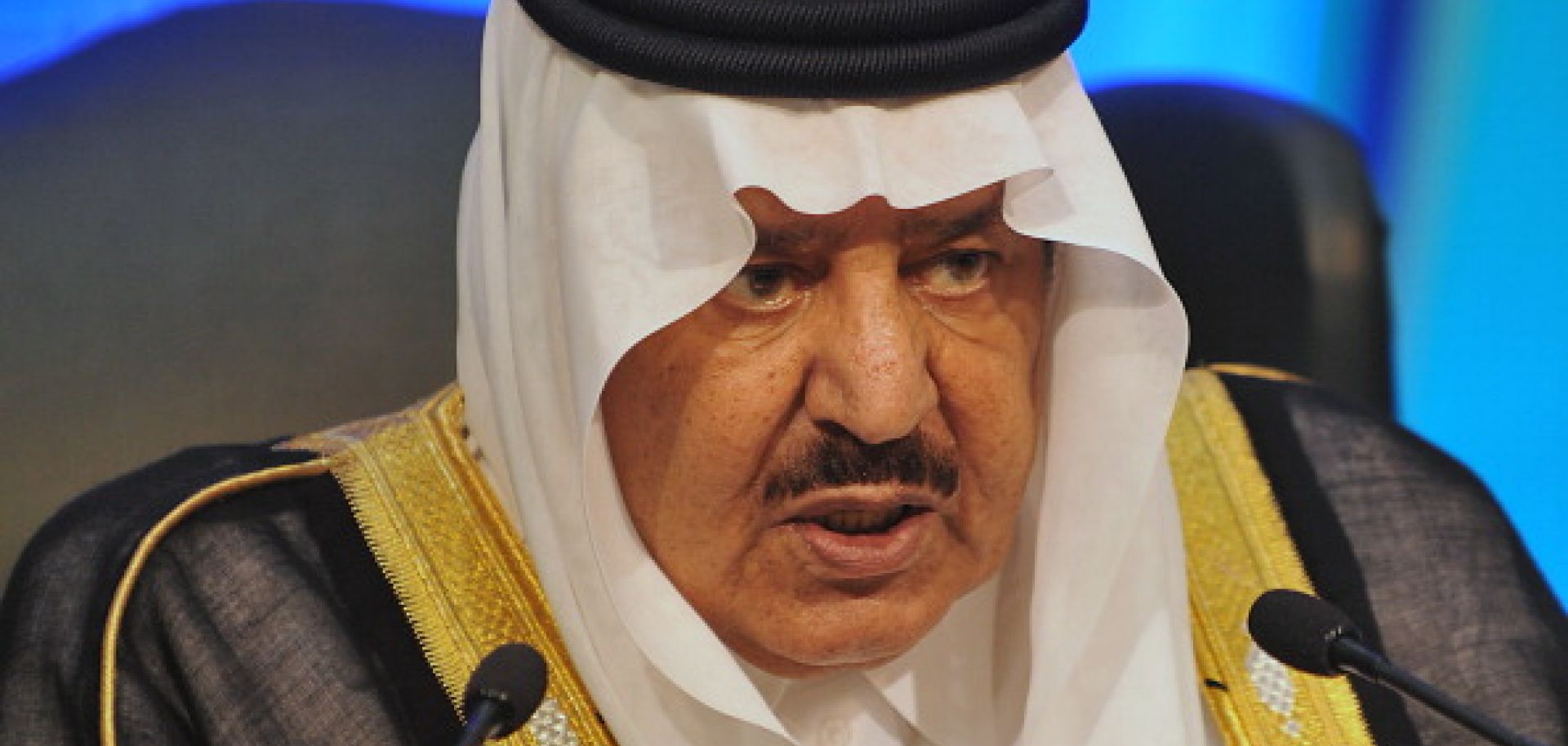 FAYEZ NURELDINE/AFP/Getty Images
Summary
Editor's Note: In light of the death of Saudi King Abdullah, we are republishing this analysis from 2012 outlining the complexities of the Saudi royal family and the challenges faced by those succeeding to the throne.
Saudi Crown Prince Nayef bin Abdul-aziz was admitted for medical tests in Cleveland March 10, 2012, amid rumors he had suffered a stroke. This development came a week after the kingdom's official news agency, SPA, said the crown prince, who has long been the country's interior minister, was seen off by a large royal entourage as he was leaving for a vacation to an undisclosed destination. The 80-year-old Prince Nayef became crown prince in October 2011 after the death of his elder brother, Sultan bin Abdul-Aziz. His health reportedly has deteriorated in recent years, along with that of his half-brother, King Abdullah bin Abdul-Aziz.
Since 2005, when Abdullah ascended to the throne after the death of his predecessor, King Fahd, the Saudi kingdom has been engaged in a slow transition of power. Besides King Abdullah, there are some 18 surviving sons of the founder of the modern kingdom, King Abdul-aziz bin Abdel-Rehman al-Saud, of whom only three can be considered likely successors to the throne given their current positions and influence. This means the grandsons of the founder, a much larger group, will very soon dominate the hierarchy of the Saudi state. So long as power was in the hands of the second generation, succession was not such a difficult issue and was dealt with informally. However, due to the massive changes occurring both within Saudi Arabia and in the wider Middle East, this transition will come at a particularly difficult time for the next-generation leadership that, despite the formal processes for succession instituted by Abdullah, will likely be far less unified than the current one.
The Saudi royalty's health problems come at a time of great uncertainty for Riyadh. On the home front, the Saudis are trying to ensure that the regional Arab unrest does not spill into its borders. At the same time, they are trying to counter an increasingly aggressive Iran. That said, the al-Saud regime has proved to be remarkably resilient over the course of its history, remaining in power despite the forced abdication of the founder's successor, King Saud, in 1964; the assassination of King Faisal in 1975; and the stroke-induced incapacitation of King Fahd for nearly a decade until his death in 2005, when King Abdullah took the throne.