COLUMNS
Security Threats in the United States From Mexican Organized Crime
MIN READMar 15, 2021 | 10:00 GMT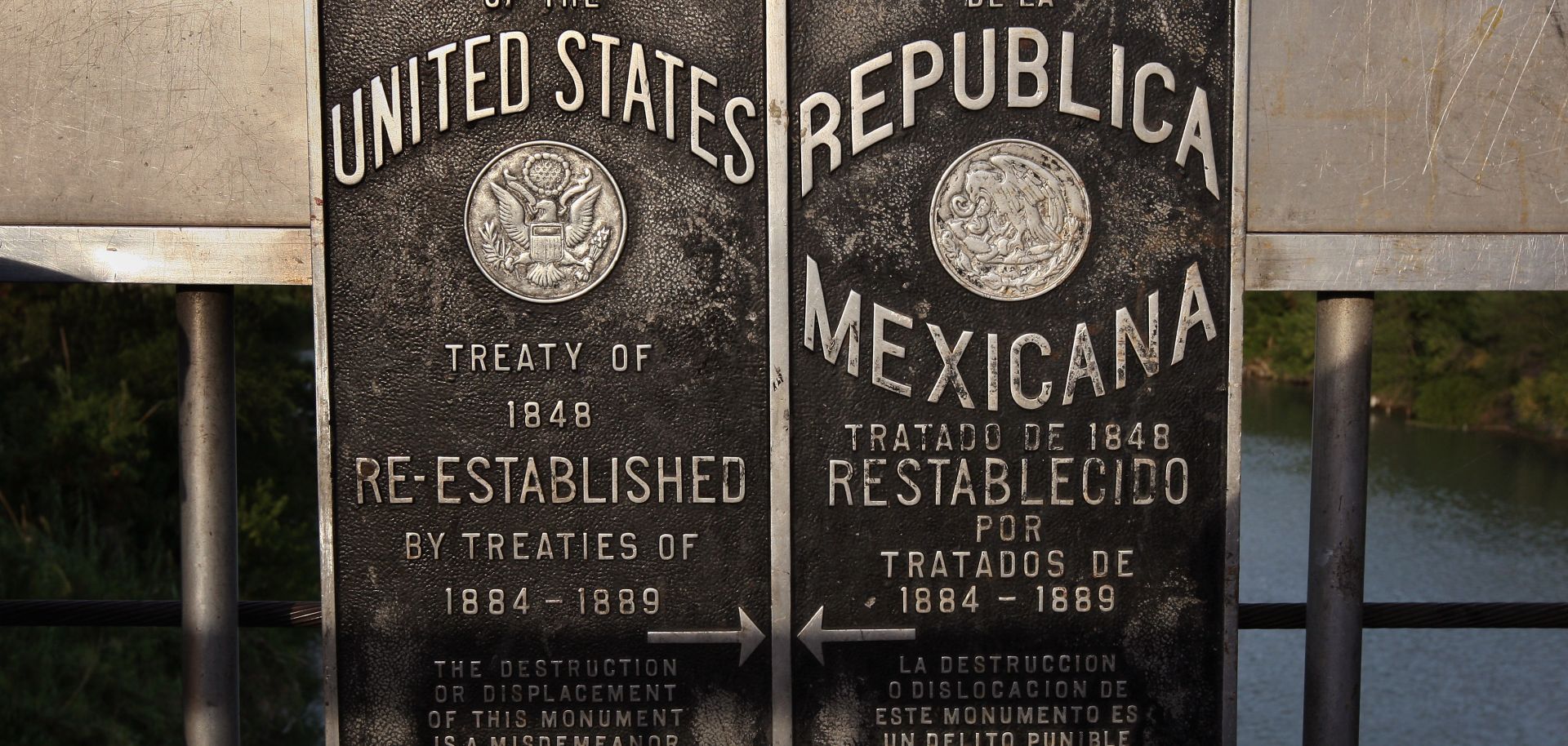 (Photo by John Moore/Getty Images)
Editor's Note: The criminal threat to personnel and company assets in Mexico from transnational criminal organizations and other opportunistic criminals has been well established. Petty robberies, extortion, cargo theft and the use of indiscriminate violence in populated areas are all risks of doing business in Mexico. Despite its proximity, however, the threats of criminal activity in Mexico manifest themselves differently north of the border. In this column, we will explore how Mexico-based criminal activity threatens individuals and companies in the United States.
Drug-Trafficking Activities
Mexican transnational criminal organizations have diversified their sources of revenue in recent years, but drug trafficking remains one of their primary ways of making money. Drug trafficking is also a major driver of violence between competing TCOs, afflicting local populations and sustaining a high homicide rate. As more U.S. states and Mexico decriminalize marijuana, demand for criminal sources of the most widely consumed controlled substance has declined in recent years, even when illegal marijuana tends to be cheaper than regulated marijuana.
TCOs have replaced marijuana with synthetic drugs like fentanyl and methamphetamines, which can be produced in large quantities from relatively small labs hidden virtually anywhere. The potency of synthetic drugs also means that TCOs can traffic less volume of the drug but make more money off of it. Methamphetamines, for example, sell for about 10 times the cost per ounce as illicit marijuana. Smaller quantities are also easier to conceal while trafficking, reducing the risk of interdiction and losses crossing the border. While supply chain disruptions associated with the COVID-19 pandemic complicated TCOs' access to precursor chemicals needed to produce methamphetamines early in 2020, the Drug Enforcement Administration assesses that those disruptions were temporary and will not impact organizations' long-term production capabilities.
Cocaine has also been one of the most consistent sources of revenue for Mexico-based TCOs, which have developed clandestine supply chains all the way from the coca cultivation regions of the Andes to neighborhoods across the United States. Colombia's suspension of aerial crop spraying in 2015 has contributed to increased yields in the largest coca-growing country in the world, and that increased production is reflected in increased seizures at the U.S. border. Colombia has been increasing alternative crop eradication efforts and is planning to resume aerial crop spraying in 2021, potentially pressuring the supply of coca in the coming years. But cocaine will remain a primary commodity for Mexico-based TCOs for the foreseeable future due to sustained demand in the United States and around the world.
Controlling the Territory
Control of the flow of these controlled substances and other illicit goods into the United States has been the source of continuous fighting between Mexico-based TCOs for decades, and a major driver of violent crime in Mexico in general. Comparing control over key border crossing points in 2016 versus 2020 shows that, despite numerous setbacks, the Sinaloa Cartel continues to be the dominant criminal force in Mexico. This should not be taken for granted: Over that period, the Sinaloa Cartel saw its former leader, Joaquin "El Chapo" Guzman, arrested and extradited to the United States, where he is currently serving a life sentence. That the Sinaloa Cartel has managed to hold on to its highly lucrative trafficking routes throughout a transition in leadership and amid continued law enforcement pressure from Mexico and the United States suggests the TCO has a degree of institutional continuity and can survive potential future setbacks such as arrested or assassinated leaders.
The primary difference between 2016 and 2020 when it comes to control of trafficking routes into the United States is the rise of the Cartel Jalisco Nueva Generacion, which matured from a marginal actor in 2016 to a peer rival of the Sinaloa Cartel by 2020. This is reflected in the rise of CJNG's leader, Nemesio Oseguera Cervantes (aka El Mencho), one of the most wanted criminals in the United States and Mexico. U.S. authorities are offering up to $10 million for information that helps lead to his arrest. CJNG's challenge to the Sinaloa Cartel in Chihuahua state, in particular, has contributed to renewed violence in key trafficking hubs like Ciudad Juarez. The Sinaloa Cartel's consolidation of control over Ciudad Juarez in the early 2010s led to a steady decline in homicides in the city compared to the late 2000s, when Sinaloa was battling with the Juarez Cartel for control over trafficking routes. The downward trend in violence has reversed in recent years as CJNG now challenges the Sinaloa Cartel. The number of homicides per year in Ciudad Juarez is still less than half the level it was during the worst year in 2010. But continued fighting between Sinaloa and CJNG could see a return of crippling violence in the northern city that serves as a critical link to the United States: In 2018, the El Paso region's 10 border crossings processed $70.4 billion in trade with Mexico, which accounted for 11.5% of all U.S.-Mexico trade for that year.
Despite the rivalry between Sinaloa and the CJNG fueling violence in Ciudad Juarez and elsewhere in Mexico, Mexico-based TCOs have typically avoided spillover violence into the United States. A combination of deterrence from law enforcement and TCOs' interest in protecting business interests in the United States has typically spared the United States the level of violence seen in Mexico. An Axios analysis in December 2020 surveyed the eight largest U.S. cities along the border and found that they collectively had a lower rate of violent crime (338/100,000 people) compared to the national average (366/100,000 people) in 2019. Only Brownsville, Texas, (421/100,000) and Yuma, Arizona, (381/100,000) had violent crime rates above the national average.
The transnational drug trade between Mexico and the United States certainly contributes to U.S. trends in violence and homicides, but the TCOs clearly avoid the sort of heavily armed, indiscriminate gunbattles in public areas in the United States that are somewhat common in Mexico. Part of the calculus behind this abstention from violence is that criminal organizations ultimately want to continue doing lucrative business in one of their primary markets, the United States. Engaging in indiscriminate violence would attract a swift law enforcement crackdown that would be bad for business. The rise of the CJNG, which has stood out as a particularly vicious criminal group in Mexico, potentially challenges this historical practice of restraint. It is possible that in its effort to wrest control from Sinaloa and other TCOs, the CJNG could use violence to usurp market control in the United States. Such a strategy might bring short-term monetary gains, but would likely weaken the group in the long term as U.S. law enforcement would likely undertake a significant crackdown on the group.
Cross-Border Discretionary Violence
Even if their activities are generally much more restricted, Mexico-based TCOs already operate in the United States and use violence when deemed necessary, albeit sparingly. Mexico-based TCOs have deployed heavily armed squads, sometimes even disguised as police officers, to eliminate rivals in the United States. While most such operations occur close to the border, TCOs have demonstrated greater reach, such as in the 2008 home invasion and murder of a Jamaican drug dealer in Phoenix and the 2013 assassination of a lawyer and informant working for a rival TCO in the affluent Dallas suburb of Southlake. Similar to the TCOs' abstention from engaging in indiscriminate violence in the United States, assassinations are similarly rare, especially compared to the hundreds of successful and attempted assassinations of local, state and federal officials in Mexico.
One of the side effects of a growing rivalry between the Sinaloa and CJNG TCOs in Mexico is that leaders and other members with the wherewithal will increasingly seek refuge in the United States. The past 18 months have revealed a series of high-profile Mexican nationals who are living in or seeking refuge in the United States and who are accused of being deeply involved in the drug trade and/or corruption that benefited TCOs.
Genaro Garcia Luna: Mexico's former secretary of public security was arrested in 2019 in Dallas on allegations of helping El Chapo run the Sinaloa cartel.
Jessica Oseguera Gonzalez: Arrested in 2020 in Washington while attempting to visit her brother — who was appearing before a federal court following his extradition from Mexico (the siblings are children of CJNG leader Nemesio Oseguera Cervantes) — she faces charges linked to dealing with businesses on the Treasury Department black list due to financial ties to CJNG.
Gen. Salvador Cienfuegos: The former Mexican Secretary of National Defense was arrested in 2020 in Los Angeles. He was accused of assisting drug trafficking and money laundering operations, but the United States dropped its controversial case after intense pressure from Mexico.
Emma Coronel Aispuro: Arrested in 2021 at Dulles International Airport, she is accused of helping to run the Sinaloa Cartel after her husband, El Chapo, was convicted and sentenced to prison in 2019.
There are likely dozens more individuals assisting Mexico-based TCOs who are operating or hiding out in the United States. Such individuals are potentially high-profile targets of rival TCOs in Mexico whose discovery by rivals could attract violence wherever they are hiding out. This will test TCOs' long-standing inclination to avoid high-profile spillover violence into the United States that would catalyze a stronger response from U.S. law enforcement. Ultimately, even if there are more attacks, they will likely be specifically targeted in a bid to avoid the indiscriminate gunbattles seen in Mexico.
Nonviolent Threats
While there are constraints on the use of lethal violence by Mexican TCOs in the United States, there are fewer constraints on scammers exploiting public fear of violence in Mexico. One of the tactics criminals use to exploit this fear is the virtual kidnapping. This involves a scammer calling someone and convincing them that a loved one has been kidnapped and will only be released if a ransom is paid. The tactic is common in Mexico, where criminal groups target Mexican nationals by exploiting the very real kidnapping and missing persons crises. Scammers are, however, increasingly targeting individuals and families in the United States. While the tactic started off targeting predominantly Spanish-speaking households with direct connections to Mexico, the scam has spread across the country, targeting English speakers as well. Scammers exploit the fear of kidnappings in Mexico: In 2019, U.S. federal authorities investigated 117 kidnappings of U.S. citizens or legal permanent residents (and many more likely went unreported). Given historically high levels of travel (2020 and 2021 being significant exceptions) between the United States and Mexico, scammers have a decent chance of reaching someone who has a loved one either living in or traveling in Mexico, making their claims of kidnapping more believable. In 2019, a series of scams targeting families in Laguna Beach, California, resulted in at least one person wiring $5,000 to the callers. The 2018 prosecution of a woman in Houston working for a Mexico-based virtual kidnapping group demonstrated that sometimes the scammers even hire help within the United States to collect the ransoms.
Scams are not limited to virtual kidnappings, and while those tend to attract the most media attention due to the high levels of drama involved, the potential for Mexico-based phone scams is limitless. In September 2020, the FBI issued a warning about scams targeting U.S. residents with financial interests in timeshare properties in Mexico. The scam typically offers some sort of dividend, refund, adjustment or other form of profit, on condition that the target first wire a "fee" to a Mexico-based account. Needless to say, the victim never receives the promised money. Scams can include legitimate-looking websites, fake documents and front companies to convince their targets. Given the business and personal relationships between individuals in the United States and Mexico, there is strong growth potential in cross-border scams. While these do not necessarily involve TCOs, they do have an advantage in using their infrastructure and human networks to engage in fraudulent activity.
The popularity of Mexico-based telephone scams targeting people in the United States is a bit anachronistic considering the rise in popularity of online platforms to conduct criminal activity in the 21st century. Although TCOs may be a bit late to the game, their resources and capabilities, interest in diversifying sources of revenue, and the relatively low-risk prospect of engaging in cybercriminal activities suggest that internet-based crime is set to grow more sophisticated in Mexico over the coming years.
Moving Online
Mexico has lagged other developed countries when it comes to internet access, but as internet penetration has increased, so has criminal exploitation of the internet. Access to the internet in Mexico has grown dramatically in recent years. Although less than 50% of the population used the internet in 2014, by 2020, around three-quarters of the population was online. For comparison, the United States passed the 50% threshold in 2000 and today is above 90%. With more people online in Mexico and more robust network access, internet-based criminal activity has also picked up. The Scientific Division of Mexico's Federal Police noted a 300% increase in hostile cyber incidents from 2013 to 2016 — and that figure only includes crimes that were reported to authorities.
Mexico-based criminal groups are certainly taking advantage of internet-based criminal activity for profit. In 2018, a coordinated attack on a Mexican bank, Banorte, allowed criminals to fraudulently transfer between 300 million to 400 million pesos (about $14.4 million to $19 million) and then withdraw those funds from local bank branches. While the origin of that 2018 cyberattack remains unclear, based on the fact that the attack required people on the ground to make physical withdrawals, it is clear that the perpetrators were at least cooperating with Mexico-based criminal groups. That attack appeared to start a trend, with eight more cyberattacks targeting Mexican banks the following year that used a variety of tactics to compromise an additional 784.7 million pesos. A ransomware attack on Petroleos Mexicanos in November 2019 also forced the national oil company to shut down its computer network nationwide as part of its recovery effort, demonstrating how criminal activity for financial gain can have broader consequences. The 2019 attacks spurred an effort to better secure networks in Mexico's financial sector, leading to a decline in attacks and no compromised funds in 2020. But significant lapses remain in Mexico's cybersecurity, as evidenced by the February 2020 breach of Mexico's Economy Ministry.
Looking ahead, the proliferation of internet-connected devices in Mexico in recent years plus gaps in cybersecurity make Mexico an attractive place to corrupt and take over electronic devices. These devices can then be used to launch further attacks and even disguise the origin of the attackers. For example, in March 2020 efforts to disrupt the world's largest botnet, Necurs, enlisted the support of Mexican officials, suggesting that the most likely Russian-backed criminal enterprise was exploiting devices in Mexico.
Mexico-based criminal activity will continue to impact the United States for years to come. While there are threats of organized violent crime spilling over due to conflicts between competing TCOs in Mexico, criminal groups ultimately see the United States as a major source of revenue and will use more discretion when engaging in violence there than they do in Mexico. Nonviolent criminal activity in the form of scams offers a way for traditional TCOs to diversify from their historical sources of revenue, such as marijuana, which is declining due to changing laws in the United States and Mexico. Based on the growth in hostile cyber activity in Mexico in recent years, U.S.-based individuals and companies should be more concerned about hostile cyberattacks from Mexican criminal groups than heavily armed attacks in American streets.
Connected Content